<< Back to Calendar
Next Generation Project Management: How to Thrive in a DANCE-World?
Jack Duggal, PMP
Abstract: Have you wondered why, no matter what you do, some projects/programs are out of control and hard to manage?
You work hard to carefully manage, but the more you try to control the harder it gets. What you have is a problem managing the DANCE (Dynamic | Ambiguous | Non-linear | Complex | Emergent) and unpredictable nature of projects. Whether you are a project/program manager, or a PMO leader you are experiencing accelerating volume, variety, and velocity of change around you. Based on the ground-breaking book, The DNA of Strategy-Execution: Next Generation Project Management & PMO, this webinar will highlight the reality of today's complex project environment and challenge the existing beliefs of how we deal with it.
- Recognize the DANCE and unpredictable nature of projects and PMO environments.
- Distinguish traditional versus next-generation project management approaches.
- Identify and review next generation project management skills necessary to thrive in today's world.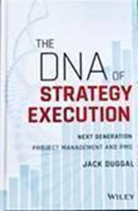 Jack Duggal is a sought-after international speaker, changemaker, and transformational leader. His passion is to seek and provide different perspectives in how to manage and deal with the DANCE (Dynamic | Ambiguous | Non-Linear | Complex | Emergent) nature of business, organizations, and life. His purpose is to inspire and equip people and organizations to make a difference and impact, through transformational strategy-execution in a persistently turbulent DANCE-world. Jack is a TEDx speaker and an internationally recognized expert in Strategy-Execution and PMO with over 25 years of experience. He is the author of "The DNA of Strategy-Execution: Next Generation Project Management & PMO," and winner of a global innovation award and 1st prize for Innovation in Organizational PM based on implementation ideas from the book. His next generation ideas and the DNA of Strategy Execution framework have been adopted and implemented in many organizations around the world. His Next Generation seminars have been top-rated for over 15 years with a unique blend of actionable insights and practical experience. Jack is the founder and managing principal of Projectize Group LLC, specializing in next-generation strategy-execution facilitation and consulting. He works with leading organizations from NASA to Silicon Valley companies and Governments around the world.
New for 2020: PMI UNY will be offering two PDUs for this monthly meeting. Starting immediately after announcements at 6 PM, each table will participate in a guided discussion while dinner is served.  
Dinner includes salad (Mixed Field Greens), Coffee, Decaffeinated Coffee, Tea included. Served with Rolls & Butter, Villa Italia Pastries, Cookies and Choice of Entree -
CHICKEN: Chicken Caprese – Pan seared chicken breast topped with fresh sliced tomatoes, mozzarella, white wine veloute and a balsamic reduction
FISH: Haddock Gremolata – Haddock filet topped with citrus breadcrumbs, parsley, horseradish, white wine, lemon, butter & garlic; baked and finished with citrus butter sauce
BEEF: Braised Beef Short Rib – Slow roasted short rib
VEG: Eggplant Parmigiana – Eggplant with Mozzarella Cheese & Marinara
Please join us on April 15, 2020 at The Italian American Community Center (IACC), 257 Washington Ave Ext., Albany, NY 12205. Attitude adjustment will begin at 5:30pm with dinner at 6:00pm, followed by the program starting promptly at 7:00pm and adjourning by 8:00pm.Pricing for 2018-2019.  To ensure an accurate number of dinners, we have created an early bird discount for those paying in advance. $30.00 for Early Bird, PMI UNY Chapter members; $40.00 for Early Bird, nonmembers; and $20 for Early Bird students. To receive the early bird discount, please pay in advance. Those who do not register by noon on the Monday for the dinner and choose to pay at the door will not get the early bird discount and will be charged the $10 late fee - $50 for members, $60 for nonmembers, and $40 for students. The early bird deadline for online registration is 12:00 noon on Monday before the dinner (cancellations after 12:00 noon on Monday will be charged the full meeting registration fee). Please note that registrations after the early bird deadline of 12:00 noon on Monday will be charged the full price as indicated above. Walk-ins on the day of the event are on a first come, first served basis with limited availability and will be charged the full price plus a $10 late fee.
Help us help others! PMI UNY will be hosting a food drive for the Regional Food Bank of Northeastern New York at our March and April chapter meetings. The items below are needed the most, but other non-perishable food items and monetary donations will also be collected.
1. Peanut butter and jelly
2. Canned soup w/meat or stew
3. Canned pasta meals w/meat
4. Canned Tuna and Chicken packed in water
5. Low‐sugar cereals, low‐sugar canned fruits, and low‐sodium soups
For details please contact:Christopher La Rocca:christopherscott.larocca@gmail.com
It is no longer possible to register for this event