<< Back to Calendar
10 Tips: What Makes the Biggest Difference on Your Journey to Success?
Leadership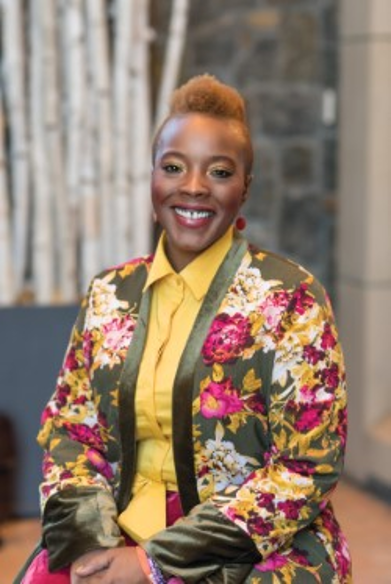 Daquetta P. Jones, BS, MBA, Deputy Commissioner for Administration, New York State Department of Civil Service.
Abstract: Loving what you do plays a critical role in your success. 10 Tips: What Makes the Biggest Difference on Your Journey to Success explores important attributes to authentically possess throughout your success, such as: Lead by Example, Be Proactive Not Reactive, acknowledging and demonstrating that Everyone is Important, and Change is Constant, just to name a few.
Daquetta P. Jones was appointed as the Deputy Commissioner for Administration with New York State (NYS) Department of Civil Service (DCS) by Commissioner Lola Brabham in April 2019. NYS DCS is the central personnel agency for the Executive Branch of New York State government, serving approximately 150,000 employees. DCS mission is to build tomorrow's workforce today by promoting a diverse, inclusive, and talented workforce. As the Deputy Commissioner for Administration, Jones' provides overall direction to the Office of Financial Administration and Office of Human Resources and Administrative Planning.
Prior to Jones' appointment at DCS, she led YWCA of the Greater Capital Region, Inc. in Troy, New York as a first-time Executive Director for over 5 years with unwavering passion, devotion, strategy, vision and success. YWCA-GCR mission is dedicated to eliminating racism, empowering women and promoting peace, justice, freedom and dignity for all. Jones' most noted success during her tenure at YWCA-GCR consisted of: increased revenue by nearly 40%, positioned YWCA-GCR into a well-known and reputable organization throughout the Greater Capital Region – no longer a best kept secret, 75% Staff Retention, secured a $250k DASNY (Nonprofit Infrastructure Investment Capital Program) to address imminent physical plant concerns, annual employee raises, successfully secured $155,000 through an anonymous matching pledge, more than tripled the Solution To End Homelessness Program (STEHP) grant annually, increased fundraiser revenue by 75% over 4 years, just to name a few.
Jones served on several committees, boards and councils such as Capital Region TU Women at Work Executive Board, Ren Co Regional Chamber of Commerce Board, Key Bank Advisory Council ($16.8 Billion Community Benefit Plan), City of Troy Ethics Commission appointed by Mayor Patrick Madden. Jones also received a plethora of accolades such as 2015 ABR Women Who Means Business, 2016 ABR 40 Under 40 Award, Capital Region Chamber of Commerce Women of Excellence, 2019 YWCA-GCR Resourceful Woman of the Year, just to name a few.  
Jones is an experienced, charismatic and visionary professional and community leader. She brings with her nearly 20 years of human services experience; 12 years in leadership.
Jones graduated in 2011 from The Sage Colleges Graduate School of Management. She also possesses a BS in Crime and Justice Policy from The Sage Colleges of Albany and an AAS in Human Services from Hudson Valley Community College. Jones is committed to be a lifelong student. She demonstrates this commitment through a continuum of professional development, research, collaboration, speaking and panel engagements.
Jones' mottos: "BE EMPOWERED EMPOWER OTHERS AND ALWAYS SMILE" 😊 "Live, Give, Serve and Save for Your Future" #KeepGoing #FuelYourBeGreatTank
New for 2020: PMI UNY will be offering two PDUs for this monthly meeting. Starting immediately after announcements at 6 PM, each table will participate in a guided discussion while dinner is served.  
Dinner includes salad (Kale Caesar), Coffee, Decaffeinated Coffee, Tea included. Served with Rolls & Butter, Villa Italia Pastries, Cookies and Choice of Entree -
CHICKEN: Chicken Parmesan - Classically Prepared Chicken Parmesan
FISH: Fresh Salmon Filet with Tomato Relish
BEEF: Peppercorn Beef Sirloin - black peppercorn encrusted
VEG: Pasta Primavera - Sautéed vegetables in garlic & olive oil
Please join us on March 18, 2020 at The Italian American Community Center (IACC), 257 Washington Ave Ext., Albany, NY 12205. Attitude adjustment will begin at 5:30pm with dinner at 6:00pm, followed by the program starting promptly at 7:00pm and adjourning by 8:00pm.Pricing for 2018-2019.  To ensure an accurate number of dinners, we have created an early bird discount for those paying in advance. $30.00 for Early Bird, PMI UNY Chapter members; $40.00 for Early Bird, nonmembers; and $20 for Early Bird students. To receive the early bird discount, please pay in advance. Those who do not register by noon on the Monday for the dinner and choose to pay at the door will not get the early bird discount and will be charged the $10 late fee - $50 for members, $60 for nonmembers, and $40 for students. The early bird deadline for online registration is 12:00 noon on Monday before the dinner (cancellations after 12:00 noon on Monday will be charged the full meeting registration fee). Please note that registrations after the early bird deadline of 12:00 noon on Monday will be charged the full price as indicated above. Walk-ins on the day of the event are on a first come, first served basis with limited availability and will be charged the full price plus a $10 late fee.
For details please contact:Christopher La Rocca:christopherscott.larocca@gmail.com
Register to this event